Lewis Hamilton is not in excellent condition after the GP in Azerbaijan, on the Baku track. The British Mercedes driver struggled out of the cockpit with his hands on his back and considerable pain from the many stresses he had during the 51 laps in Azerbaijan.
He said: "This was the toughest race of my career." On Instragram however, Lewis said how now his physical condition has improved: "Hello world. Yesterday it was tough and I had some trouble sleeping, but today I woke up positive.
My back is a little sore, but I haven't luckily nothing serious. I underwent acupuncture and physiotherapy with Angela Cullen and I am going to my team to work with them. We have to keep fighting. There is no better time than now to stick together.
I'll be there this weekend. I would not miss it for the world. I wish you all a great day and week." Up to now it has not been a positive season for the British driver, even if limited by the performance of his Mercedes, not up to the standard of past years.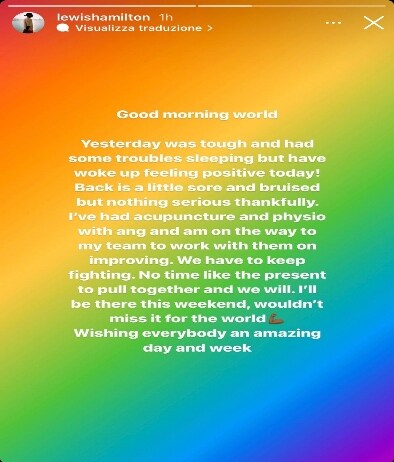 Hamilton in the next Canada GP
Hamilton is back from 9 consecutive races without a win, and his career record fast is 10, recorded three times: from Brazil 2008 to Germany 2009. From Brazil 2012 to Germany 2013 and from Belgium 2013 to Australia 2014.
Hamilton hasn't faced such a tough moment in 8 years, and the comparison with the 2019 Canadian GP, ​​the last one played to date, is pitiless. Then Hamilton took his fifth win of the season, and Canada was the seventh round.
He left Montreal with 29 points over Bottas and 62 over Vettel, the first driver of a rival team. Those 62 points of advantage create a cold comparison with the current situation. In Canada Hamilton obtained his first pole and career victory in 2007.
In 2019 he won the F1 World Championship for the seventh time, equaling Michael Schumacher's circuit record. Seven wins are an impressive, almost record-breaking haul: he has won 8 times only at the Hungaroring and at Silverstone.