Russell says Hamilton probably saves his career by staying in F1
by
SOURAV D
| VIEW 437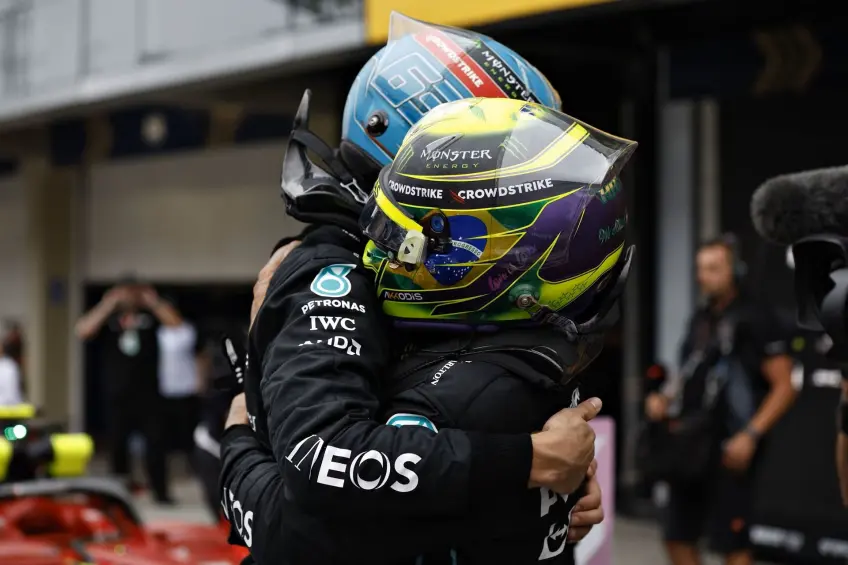 George Russell, the 23-year-old Mercedes F1 driver who has just had a decent F1 debut this season with 1 win and 8 podium finishes, said in an interview with a media outlet that the seven-time world champion Lewis Hamilton might just have saved his career by staying in F1.
In the matter of the fact, latest remarks from Russel came against the backdrop of a 2021 season finale at Abu Dhabi GP, where the then-race referee Masi's mistake had costed Hamilton a record eighth championship title and pushed him on the verge of a plausible retirement.
Besides, Masi also had lost his job following an internal probe conducted by Fia.
After the event, Hamilton was absent from media over a couple of months and his first tweet said that he had lost faith on FIA after Abu Dhabi GP

.
Nonetheless, FIA had viewed the incident as a human error and introduced a number of new regulations including two race referees instead one

.
At that time, questions were emerging on whether Hamilton would stay in the grid, while a number of F1 analysts were quoted saying that the 2021 title was robbed from the 37-year-old

.
Russell said Hamilton saves his career by staying in F1
Meanwhile, George Russel, who had scored more points than teammate Hamilton at his first season in F1 and finished at fourth in driver's championship title race, credited Hamilton for his scintillating performance.
Stressing that his performance could not have reached such level without Hamilton, Russell added, "When you see the level, he's (Hamilton) performing at, he looks young, he's fit, he's in shape. He's enjoying racing.
He's also enjoying this journey that we're on as a team to bring Mercedes back to the front. I've got a lot to thank him for because had Lewis not been my team-mate this year, people would've thought very differently about me this year.
I joke with him that he probably saved my career by staying on in Formula 1 this year because had he retired, and I had the exact same year as I've done this year, I'm sure perception would've been drastically different".
George Russell
Lewis Hamilton