Lando Norris on the type of relationship with Oscar Piastri
by
SEAD DEDOVIC
| VIEW 649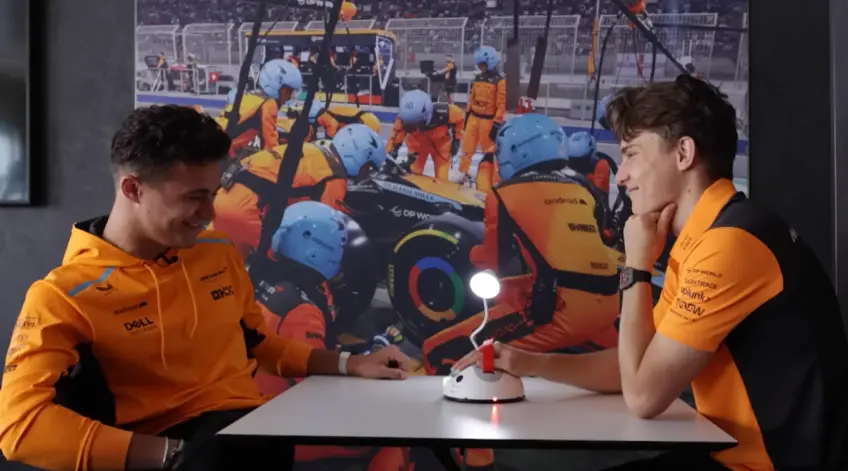 Lando Norris and Oscar Piastri proved to be a great tandem. There is great chemistry between them. Although McLaren is not excelling this season, Lando Norris has no doubts about his team's progress, and he only had words of praise for his teammate, Piastri.
"All of it is good, to be honest," says Norris, as quoted by f1i.com "He's a very normal guy. Down to earth. No ego. Just yeah, a normal guy. We get on really well. He's extremely good, competitive, good team-mate. I think we've already built up a good amount of respect and trust towards one another." For Lando Norris, the most important thing is to give his maximum in order to maintain a good relationship with his teammate.
Norris also referred to McLaren's results this season, as well as the impact they have on team spirit. "We've both got the best interest at heart which is to help the team. When you get to racing for first and second in a race, that's when things I think change a huge amount.
Now whether one of us finishes 15th or 16th, at the end of the day, it doesn't matter that much to me. Yeah. I feel like I'm just a good team-mate. I prefer to get along with my team-mate than not. I always try to make it work in better ways."
Oscar Piastri on Lando Norris
Lando Norris was one of the most influential people in Piastri's life, and he learned a lot from him.
In comparison to him, Norris has a lot more experience than him and he uses every opportunity to help guide him along the right path. We will have to wait and see what the coming years bring for them as both of them have a great perspective.
"I've definitely been learning a lot from Lando"- Piastri said. "Not just how to drive this car specifically, but also just the way we do debriefs and attention to detail and stuff like that. There's always areas to try and improve, so it's been good to have him as a benchmark, definitely."
Lando Norris
Oscar Piastri
Lando Norris: MCL60 'Erratic' but Shows Promising Pace on Japan Debut
Lando Norris talks about respect for Lewis Hamilton and their relationship
Lando Norris believes in his team even more after the latest engagement!
WATCH: Lando Norris Trials F1 2023 Game, Testing New Las Vegas Circuit
Jenson Button on Lando Norris: You need to be in a winning car
Lando Norris a "franchise" driver, says McLaren boss Brown