Mark Zuckerberg accuses Elon Musk for the challenge date: "He's not serious"
by
LORENZO CIOTTI
| VIEW 692
Mark Zuckerberg against Elon Musk: the long-awaited MMA challenge between the two billionaires, scheduled in Italy, risks not being performed, with the CEO of Meta harshly accusing his rival. In recent days there was talk of the location of the challenge, with many mayors and municipalities who had expressed themselves to host the two billionaires on the octagon.
However, Zuckerberg allegedly accused Musk of being unserious, and gave him an ultimatum to set a date for the match. Only a few days ago the two billionaires had confirmed the fight but now Zuckerberg on Threads said: "I think we all agree that Elon is not serious and the time has come to get moving.
I offered him a real date . Elon won't confirm a date, then says he needs surgery, and now asks to take a practice round in my backyard. If Elon were ever to take a real date seriously and make the event official, he knows how join me.
Otherwise, it's time to move on. I will focus on competing with people who take this sport seriously."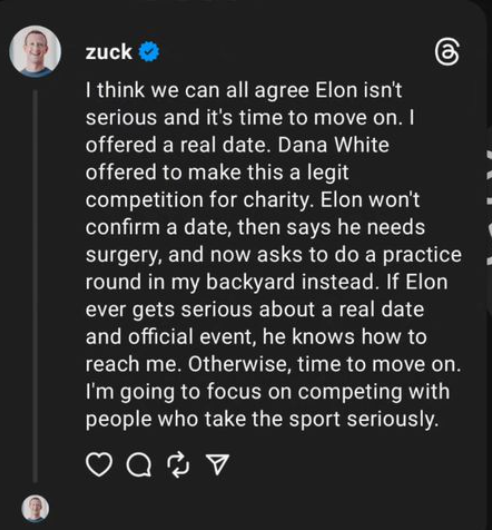 About the venue
On X, Musk shared a scene from Monty Python's Brian of Nazareth - as a tongue-in-cheek reference to what awaits viewers of his future fight with Zuckerberg.
Furthermore, Elon Musk also used ancient Rome to underline the decline in the birth rate in various countries of the world, including Italy: "The decline in births is underestimated as a cause of the decline of civilization.
Even Rome had a problem with births during the reign of Julius Caesar." Could this be one of the possible venues for the eventual challenge? Musk has announced that the expected fight with Mark Zuckerberg will be streamed live on X, and will be a Cage Match.Musk specified that the proceeds will be given to charity to veterans, therefore with the probability that access to the live streaming will be paid.The idea of an MMA fight was born at the end of June, therefore before the launch of Threads and the complaint announced by Twitter for the theft of intellectual property.
The day has not yet been set, while the venue for the fight should be the Vegas Octagon.Musk has informed followers that he lifts weights during the day while he works out because he doesn't have time to work out.
Mark Zuckerberg
Elon Musk
Italy
Elon Musk Weighs in on U.S. Border Crisis
Elon Musk Disbands "Election Integrity" Team at X Amidst Controversy
EU Raises Alarm over Disinformation on 𝕏, Targeting Elon Musk
Elon Musk's Net Worth: Deciphering the Wealth of a Tech Titan
Netanyahu Urges Elon Musk to Combat Antisemitism on Social Media
Elon Musk Reveals Plan to Charge Subscription for Twitter Use