New York Mets' Pete Alonso rips Cardinals coach for 'b---- move'
by
DZEVAD MESIC
| VIEW 1395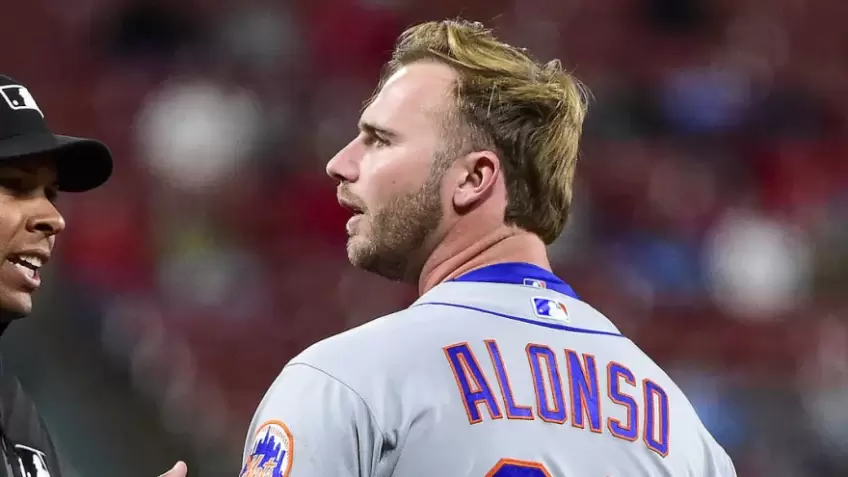 The tensions got high between the
New York
Mets and St. Louis Cardinals in the eight inning and when pushing and shoving ensued, the cameras caught Pete Alonso getting jumped from behind by Cardinals first-base coach Stubby Clapp.
After the game, Alonso yelled toward reporters: "That's your f------ article title: 'b----made,' " Alonso said. The Mets suffered a 10-5 loss and after the game Alonso stated that he is strong and capable of "putting somebody in the hospital." "If you want to hold me back, if you want to restrain me, go at me like a man," Alonso said, per The Post.
"I totally understand because I am a big strong guy and obviously the manager wants to have protection for his team and his staff and I totally get it, and I am a big strong guy. They don't know my temper and what I can do.
If I wanted to put somebody in the hospital, I easily could, but I was just out there trying to protect my guys".
Alonso on the incident
Alonso thought the pitch that Yoan Lopez delivered wasn't really that close to hitting Nolan Arenado and the whole incident basically started for no real reason.
"What happened today didn't even make sense, the [pitch to Arenado] wasn't even close and it's something that started for no reason — it wasn't even close," Alonso said. "I know it's a five-run ballgame, but we're trying to come back.
To me the whole thing didn't make sense". The Mets led the league with 18 HBPs. "I am not a pitcher, but I just can't comprehend missing that badly," Alonso said. "It's not even close.
I am 6-3, I am a tall guy and I know guys are getting incentivized to throw hard, throw up and all that, but I just don't know how the misses are that bad. "Big leaguers that are the best in the world at what they do shouldn't be missing up above guys' necks. No one should be throwing neck balls".
New York