NBA stars reactions to Argentina triumph at the FIFA World Cup final
by
LORENZO CIOTTI
| VIEW 358
Argentina is the 2022 World Champion thanks to the victory on penalties against France after a 3-3 draw in the 120'
.
Lionel Messi
brace and Angek Di Maria goal for Argentina, Kylian Mbappé hat-trick for France. Argentina immediately starts the match well.
Di Maria immediately starred: dribbling on Dembélé who rams him into the area, Messi scores the 1-0 goal from the penalty spot. Argentina continues to attack and finds the 2-0 with Di Maria himself, who closes a magnificent action opened and finished by Messi.
Deschamps removes Dembélé and Giroud from the field for Thuram and Kolo Muani. In the second half, Argentina scores a third goal in a couple of situations. Then the turning point, with Kolo Muani entering the area and being knocked down by Otamendi, a penalty and Mbappé made it 2-1.
A minute passes, Messi loses the ball on Coman and Mbappé himself finds the brace with a great goal. Lautaro Martinez has incredible opportunities to score, but the Inter soccer player fails spectacularly, and Lloris saves with two good saves.
NBA stars reactions to Argentina's FIFA World Cup triumph
In extra time, the most tempting opportunity comes at the feet of Lautaro Martinez, who is incredibly stopped by Upamecano twice. Argentina finds the goal of the new lead with Messi after Lloris had saved on Lautaro, the ball crosses the line and everyone cheers, but a few minutes from the end Mbappé finds Montiel's arm and converts the subsequent penalty for the hat-trick he brings the final with penalty kicks, not before a prodigious intervention by Martinez on Kolo Muani.
Coman had his penalty saved by Martinez, Tchouameni kicked out, the Argentines made no mistake and lifted the third cup in their history. We recall Argentina now has 3 FIFA World Cup won, ahead of France and Uruguay (2 titles), Spain and England (1 titles).
Brazil leads with 5 titles, ahead of Italy and Germany (4 titles). Here is the tribute of the NBA stars to the triumph of Argentina and Leo Messi in the final against France, with the most significant tweets, from Lebron James to all the others: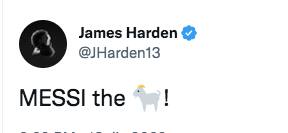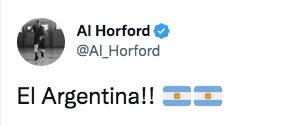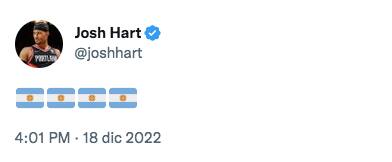 Argentina
France