UFC 279: Nate Diaz submitts Tony Ferguson with guillotine choke
by
FARUK IMAMOVIC
| VIEW 427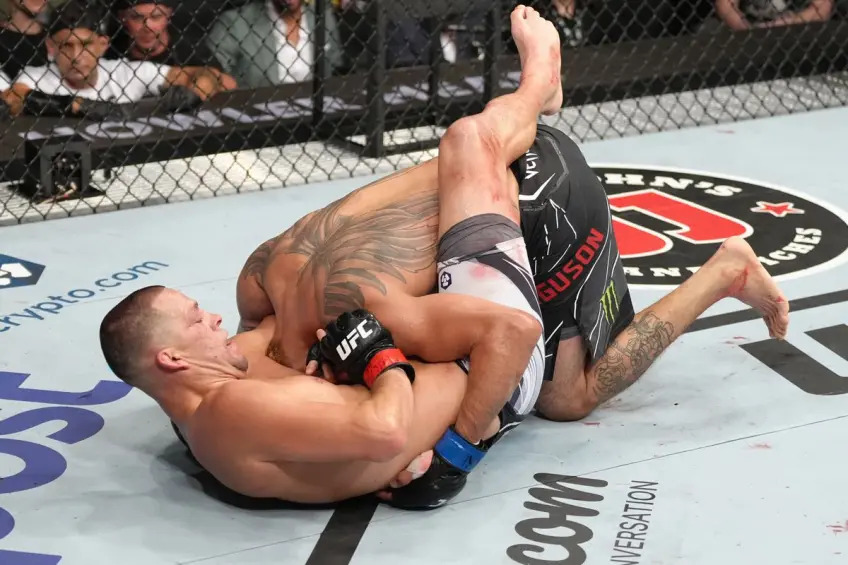 MMA fans got what they wanted after Khamzat's fall on the scales. The UFC paired Tony Ferguson and Nate Diaz, and it's incredible that we haven't had the chance to watch this match before. But the UFC 279 event offered this match as the main fight of the night and expectations were high.
Tony Ferguson was looking for an end to his four-game losing streak, and for Nate Diaz, this was his farewell match from the UFC. Throughout his training camp, Diaz was preparing (although he claims to have given up on his preparations) for Khamzat Chimaev, while Ferguson had a contracted appearance against Jingliang.
Just a day before the event, there were changes, but Ferguson and Diaz are fighters who never worried about such things. Immediately, Diaz and Ferguson started as expected, with open exchanges. However, after an explosive 20 seconds or so, Diaz slowed down a bit, but Diaz traditionally gets more active as the fight progresses.
An interesting detail was the cut on Tony Ferguson's lower leg, which he apparently received by placing one of his left-footed kicks. Both fighters had interesting attempts during the first round, but Diaz landed the most concrete shots.
Ferguson had success with "low kicks", but he mostly missed boxing combinations, especially in the second half of the first round.
Nate Diaz and Tony Ferguson provided an exciting match
Ferguson opened the second round more aggressively and boxing combinations began to settle on Diaz's head.
The movements of "El Cucuy" were more fluid than those of Diaz, who was waiting for the opportunity to place his "1-2 (front-rear direct)" combination. The second round ended with an exchange, not of punches but of words. Ferguson inflicted more and more damage on the front (right) leg of Nate Diaz with a right "low kick".
After a minute of the third round, a rather unclear situation followed. Diaz was walking around the ring gesturing as if he didn't want to fight anymore. The referee called the fighters to continue the fight, and Diaz just walked, while Ferguson was waiting for him in the middle of the cage.
The showdown continued after about 20 seconds of this strange segment, and Diaz increased the gas and began to attack Ferguson more aggressively. Tony was not obliging at all and we watched the most exciting round so far. After one of the exchanges in the middle of the round, Diaz started addressing people outside the cage and tried to point out that Ferguson avoids open exchanges (not really true, op.a.).
Ferguson still seemed fit at the beginning of the fourth round, but Diaz hit much more specifically in the exchanges. Nate Diaz's hands worked much faster than Ferguson's and "El Cucuy" began to wrestle in the middle of the round.
He tried to knock Diaz down with a double leg takedown, but Nate locked in a guillotine and forced El Cucuy to submit less than three minutes into the fourth round. Nate Diaz and Tony Ferguson provided an exciting match, but their releases only proved that in the end, it was a good thing that they fought each other.
Both are still far from their best editions and it is hard to imagine that Diaz could be a worthy match for Khamzat Chimaev. However, Nate overcame a great Tony Ferguson and is leaving the UFC in style. This is Ferguson's first "submission" defeat under the auspices of the UFC and the second in his entire career.
Jamie Toney finished him with a "triangle choke" back in 2009. Nate, on the other hand, registered his eighth victory by "submission" under the auspices of the UFC and his 12th overall in his career. He is leaving the UFC after 27 fights under the auspices of the UFC, where he recorded 16 wins and 11 losses.
Nate Diaz
Tony Ferguson
• Eddie Hearn reacts to Jake Paul vs Nate Diaz: "It was awful"
• Nate Diaz goes the distance but gets outplayed by Jake Paul's tremendous striking
• Nate Diaz thinks Conor McGregor should fight Justin Gaethje next
• Bobby Green extends Tony Ferguson's losing streak with a last minute stoppage
• Jake Paul bothered by Nate Diaz's behavior: "I'm used to carrying these promotions"
• Michael Bisping believes Jake Paul vs Nate Diaz is a "very smart matchup"